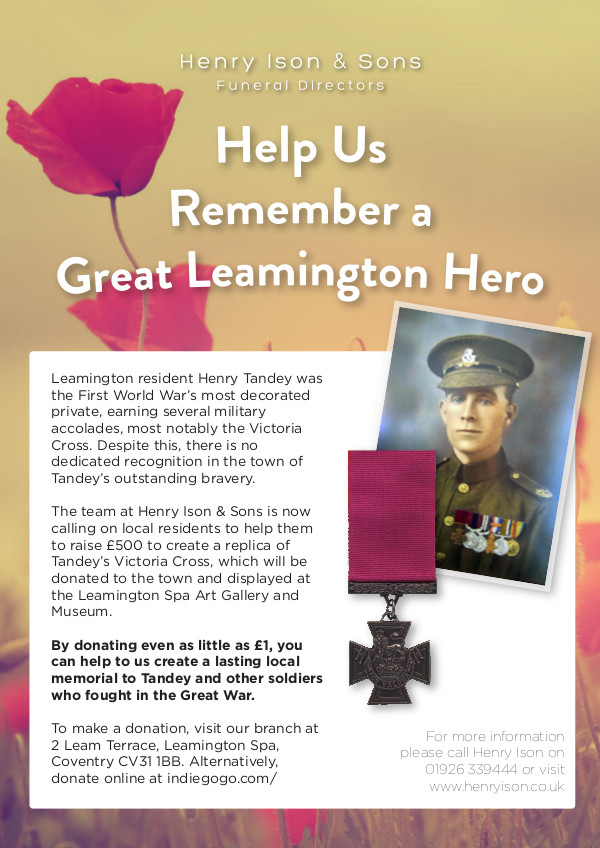 To find out more or to donate go to http://igg.me/at/henry-tandey-vc-appeal or visit Henry Ison and Sons in Leam Terrace.

James Hewison of Henry Ison Funeral Directors interviewed by BBC Coventry and Warwickshire

Henry Ison & Sons Funeral Director has launched a campaign to create a lasting legacy to recognise the achievements of Leamington Spa war hero Henry Tandey, the most decorated private of the First World War.

One of just 1,354 recipients of the Victoria Cross, the highest honour awarded to British and Commonwealth forces for gallantry in the face of the enemy, Tandey was also granted the Distinguished Conduct Medal and the Military Medal, as well as receiving five mentions in dispatches and three wound stripes in an illustrious military career. Indeed, such was the frequency of his feats of heroism, on one occasion he was told by a senior officer that his bravery could not be adequately rewarded because he had already received all the gallantry medals available.

While a blue plaque commemorates his birthplace in the town, currently there is no dedicated recognition of Tandey's outstanding bravery during some of the bloodiest and most hard fought battles of the Great War – something the Ison team aims to rectify in the coming months.

The Leam Terrace-based funeral director is now asking residents to help its team raise £500 to create a replica of Tandey's Victoria Cross. If the appeal proves successful, the funeral director will then commission Hancock's of London, who have produced Victoria Cross medals since 1856, to produce the special commemorative medal. It will then be donated to the town and put on public display.

"Each year our team undertakes a number of community activities around Remembrance Sunday," said funeral manager, James Hewison. "With 2014 marking 100 years since the start of the First World War, we wanted to do something that would really commemorate Leamington Spa's war effort. When we realised that there was nothing in place to mark the contribution of one of the UK's most decorated soldiers, we knew we had to act. While our campaign will centre on Henry Tandey, our hope is that by creating a lasting local legacy, we will help future generations remember the people from our town that sacrificed so much."

To produce the replica Victoria Cross, the Ison team has had to seek permission from The Green Howards Regimental Museum in Yorkshire, which currently holds Tandey's original medal. It was donated to the military museum after it was sold at auction by mistake in 1997. While a replica is on display for the Museum's visitors, the original is stored in a local bank vault for safekeeping.

"We are indebted to the Green Howards Museum for giving us its blessing to create a replica of Tandey's most famous award so that Leamington Spa can have its own permanent tribute," continued James. "We now hope that residents of the town will get behind our campaign and help us reach the total needed to commission the replica medal."

The appeal has already received the backing of Councillor John Knight, Mayor of Leamington Spa who is keen to see a tribute produced. "I am delighted to lend my support to the proposal by Henry Ison & Sons to commission a replica of Henry Tandey's Victoria Cross. Henry Tandey is deservedly recognised as one of the most famous sons of Royal Leamington Spa. It is fitting that there should be a tangible record of his Victoria Cross on display in the town. I would urge local townspeople, businesses and other organisations to make donations to make this most laudable aim a reality."

Once the medal is produced, the Ison team plan to hold a service of dedication in a local church before handing the medal over to the town. It is hoped that the replica medal can then be displayed at the Leamington Spa Art Gallery and Museum alongside the Freedom of the Borough scrolls and casket awarded to Tandey a year after the war ended.

To help drive support for the initiative, an online crowdfunding campaign has been created, allowing both local people and interested parties from further afield to donate while bringing Tandey's achievements to a wider audience. Anyone interested in finding out more about Henry Tandey or donating funds to the medal appeal can do so at http://igg.me/at/henry-tandey-vc-appeal.

"We wanted to make the campaign as accessible to as many people as possible," continued James. "Our hope is that as well as driving donations to purchase the medal by using an online crowdfunding website, we will be reaching out to a younger audience and educating them more about this important aspect of the town's heritage."

Local residents can also make a donation to the campaign in person by visiting the Henry Ison & Sons branch at 2 Leam Terrace, Leamington Spa, CV31 1BB The branch is open from 9am to 5pm, Monday to Friday, and further information is available about the campaign by calling the branch on 01926 339 444. Henry Ison and Sons will also be holding an information and fundraising day at the Royal Priors Shopping Centre on Friday 7 November from 9am to 5pm.