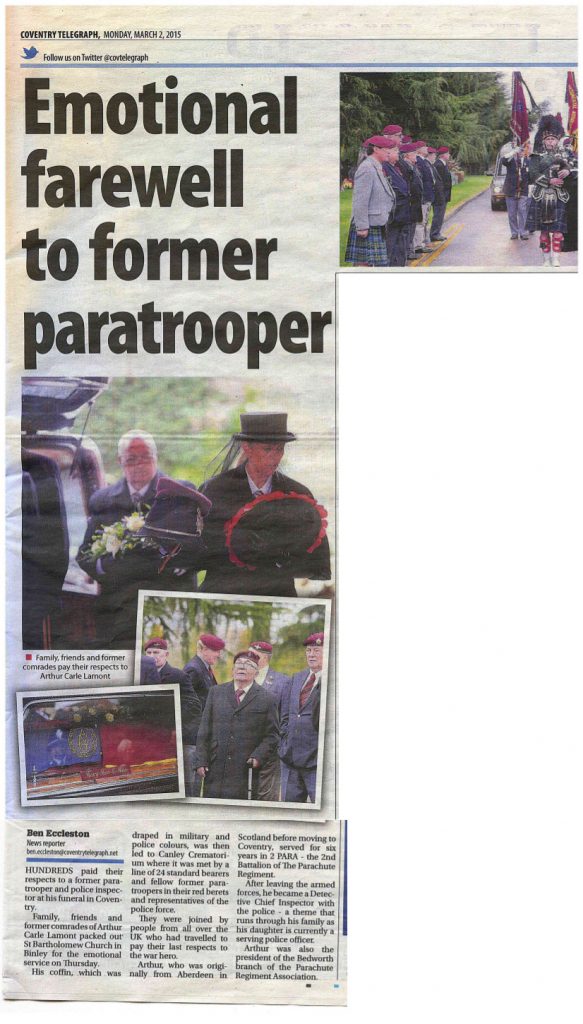 On Thursday, February 26th 2015 hundreds of people attended the funeral of Arthur Carle Lamont, a former Paratrooper and Detective Chief Inspector of Coventry. Family, friends and former comrades attended the service, held at St Bartholomew's Church, Brinklow Road, Binley, Coventry.
Mr. Lamont's coffin, which was draped in military and police colours, was then led to Canley Crematorium by Henry Ison & Sons' cortege, where it was met by a line of 24 standard bearers and fellow former paratroopers in their red berets, and representatives of the police force.
Mr. Lamont was originally from Aberdeen in Scotland before moving to Coventry and served for six years in 2 PARA – the 2nd Battalion of The Parachute Regiment.
Upon leaving the armed forces, he became detective chief inspector with the police force and was also the president of the Bedworth branch of the Parachute Regiment Association.
Mr. Lamont's family would like any donations to be made to The British Legion c/o Henry Ison & Sons, 175 Daventry Road, Coventry.